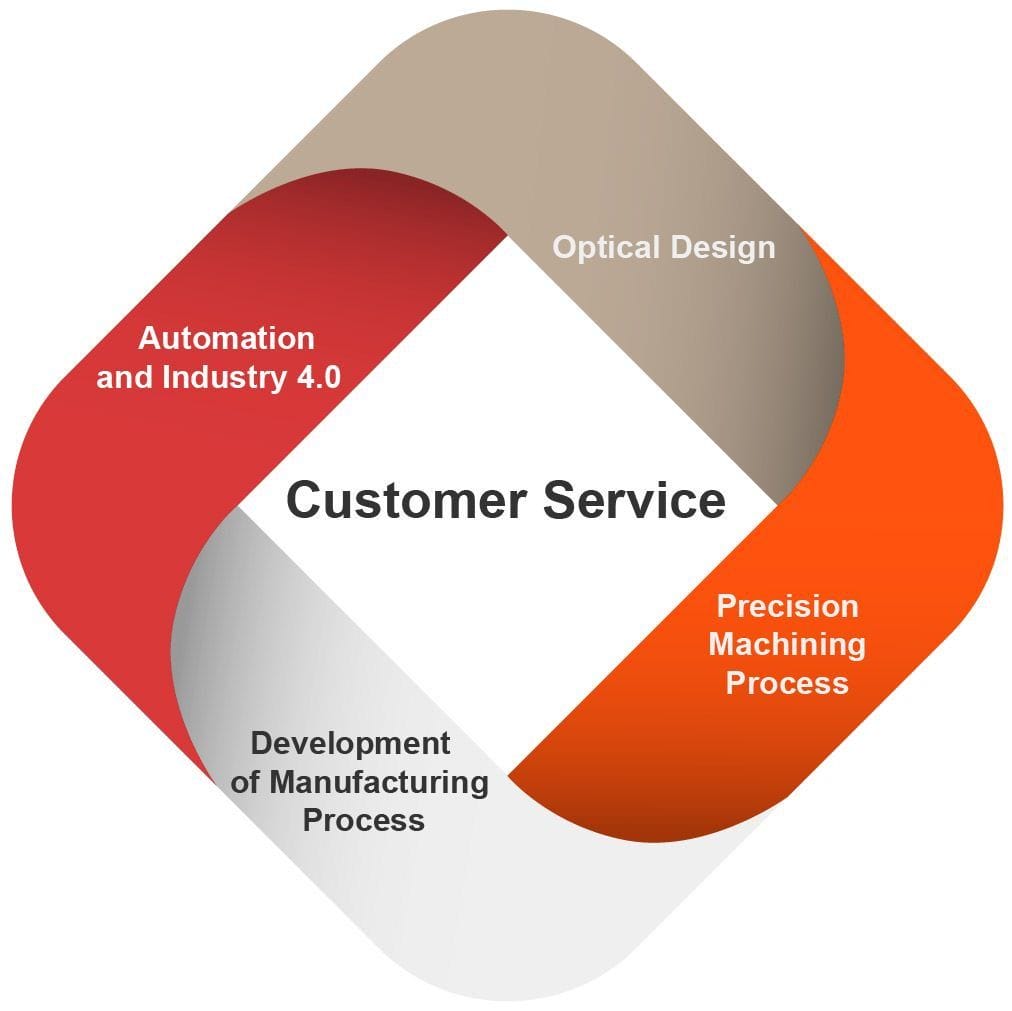 Optical Design
GLT's core technology is optical design and ownership of many self-developed optical patents. Through precision machining & plastic formation technologies to transfer the optical patterns in micro meter scale from the tooling to the light guide parts to control the direction of light traveling, uniform light distribution with high brightness on a surface is achieved. Differentiating from traditional dot printing, or laser etching technologies, GLT is capable of making the optical patterns smaller, more consistent with better precision of light controlling , and combining with technology of compound machining on tools to put patterns of different functions onto the same light guide parts to greatly enhance the light controlling ability.

Instead of working on constant types of products like other general backlight suppliers, GLT dedicates to developing light guide parts requiring uniform surface lighting, regardless of size or thickness & ranging from back-lit to front-lit, light guiding from inside to exterior display, automotive or icon keys of home appliances, among which all fall into GLT's coverage of service and R&D. Besides, GLT holds on to the concept of modulized designs to serve customers, from selection/ quantity/ placement/ angle of light source to outline structure/ curvature/ thickness of light guide parts, even combination & control of surrounding miscellaneous optical films to optimize the optical performance so as to supply customers products of high efficiency, high quality and energy-saving.
Precision Machining Process
GLT continues pouring R&D momentum into precision machining field for product applications as small as 0.1" thin illuminated credit card logo to as large as 82" slim TV built in with hundreds of thousands to tens of millions of optical patterns, among which each one is an important structure for collimating the light. What GLT pursues is each pattern to be precisely & perfectly machined & formed. Sticking to this spirit, GLT combines development experience accumulated in years to precisely control the changes of optical pattern's angle/ size & even work for asymmetric structures, and machines optical patterns on freely-curved surfaces, or large-sized rollers. All present GLT's core technologies of collimation of the light.
Development of Manufacturing Process
GLT continues making breakthrough in manufacturing techniques, from optical precision injection technology to precision extrusion process, to meet the market direction of larger, slimmer, lighter and brighter products. Compounding with sticking to one-stop manufacturing mode, from:
Input of plastic resin → Heated to melt → Thermal formation with optical patterning transfer from the tooling → Coverage by protection film → Outline cutting & cleaning → Auto stack-up for final packaging

GLT manufactures products in fully automated lines. From pellet input to pallet output, such an in-line nature minimizes manual handling & moving-around, production scrap & cost so as to supply customers with the most competitive and high quality products.

In 2019, GLT Invested about 500 million NTD in capital expenditure to expand production equipment for Shanghai, Tong-luo & other plants and the R&D center in Chung-li plant, Taoyuan. Currently, there are 7 extrusion lines for large-sized LGPs in Zhongshan plant, Guandong &10 to be completed one after another in Tong-luo plant, Miaoli In 2020. By then, the total capacity could reach 1.7M pcs of 55" LGP/month.

It is expected that the capital expenditure will remain at around 500 million NTD in 2020 with focuses on product development, intelligent manufacturing and process automation for an ultimate goal of unmanned production without light-on.

In recent years, GLT has strengthened and extended the capability of the light guide plate manufacturing process to tailor to customers' requirements by adding the optical glue, anti-reflection or anti-scratch coating layers on both sides in-line. Adopting the same one-stop manufacturing mode, GLT could produce compounded light guide plates to be introduced to customers' production lines to help eliminate some secondary off-line operations, such like gluing, cleaning, removal of protection film to achieve zero assembly tolerance & optical consistence to greatly enhance the yield rate & value of light guide plates.
Automation and Industry 4.0
In addition to continuously upgrading the quality and manufacturing efficiency, GLT has been actively investing in Industry 4.0 in recent years. Through one-stop mode of automated production, in-line 100% AOI inspection, big data collection & introduction of AI for interpretation/analysis, and focus on production traceability, GLT could further improve the yield and efficiency of the process. Beyond that, GLT could set up data link with the customers, ranging from PO placement, production management, product manufacturing-related information to after-sales quality tracking, for effective management and become customers' long-term cooperation partner.
Customer Service
GLT has set up multiple sites around the world. In response to customers' product needs in different fields, through experienced sales personnel & development engineers and integration of worldwide resources, GLT could offer customers the best instant service.